Ahoy, Matey! Book 7 is here.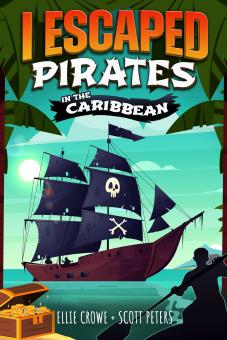 15-year-old Jon battles high seas, scurvy pirates, and Spanish galleons after he's captured by the famous pirate, Captain Morgan. An exciting, swashbuckling tale of survival aboard a pirate ship on the high seas.

From multi-award winning Ellie Crowe and Scott Peters comes a swashbuckling, kid-powered adventure on the high seas!

15-year-old Jon is thrilled to be a merchant sailor aboard a ship that's laden with goods bound for the Caribbean islands. But when pirates attack in the middle of a storm, the sailors don't stand a chance. Jon is captured by the infamous Captain Morgan and his scurvy crew. Jon's given an ultimatum--join the pirates or be marooned on a desert island! But he's no buccaneer. He's a kid from the American colonies with worried parents back home. He's way out of his element. For now, he'll play along. But the second he can get away, he'll make a break for it. With Spanish galleons bearing down, fortresses filled with gold, and battles looming ahead, who knows what tomorrow will hold? Jon is determined to make it home. Can he escape?