I Escaped Egypt's Deadliest Train Disaster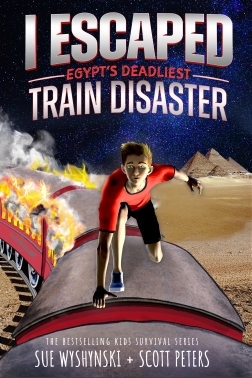 A Train Fire Survival Story
By Scott Peters
Published by Best Day Books For Young Readers
Sam has one mission: to survive.

15-year-old Sam is vacationing in Egypt when he's trapped in a burning train that's speeding out of control.
The Survival Series that celebrates the awesome history of us.
Based on Egypt's 2002 El Ayyat railway accident.

From bestselling author and creator of over 300 museum exhibits Scott Peters comes a wild escape adventure based on the true story of Egypt's deadliest train disaster.

Short attention spans — Chapter Book — Ages 8-12 — B&W Illustrations

15-year-old Sam is thrilled to be riding a rickety train with his parents in Egypt. It sure is different from America! Sam sets off alone, searching for snacks, as the train screeches through the night. Suddenly, a fire erupts and a wall of flames split the train in half, trapping Sam in the rear cars. Unable to return to his mom and dad, Sam is shoved to and fro by the panicked crowd. The train picks up speed, racing through the dark night. Should Sam jump to save himself? He's no stuntman. He's just a kid, a rower from Washington, DC. He's way out of his element. Soon, sparks swirl and smoke fills his nostrils. As the flames push him back into the final car, Sam is determined to escape. Because if he gives up, he'll never see his parents again. Can Sam survive the worst train disaster in Egypt's history?

This is the 9th Escaped adventure in the children's series about brave boys and girls who face real-world challenges and find ways to escape disaster. Follow these inspiring kids while they brainstorm, help others, and hone their problem-solving skills.

The short chapters make for easy wins, and Sam's gripping situation keeps even reluctant readers turning pages just to find out what's going to happen next.

Great for kids book clubs and classrooms.
Packed with a special fact section on Egyptian pyramids and mummies for kids, ancient Egyptian curses, and much more. Includes survivor quotes.
An adrenaline-charged, nonstop action book for boys age 8-12 and girls who love tales of values and courage.

Collect the whole I Escaped Series

"a must for every reading list"

Can Sam survive disaster? Read it and find out!
Paperback | 112 pages | $8.99 USD | 6x9 | 978-1951019297 | December 16, 2021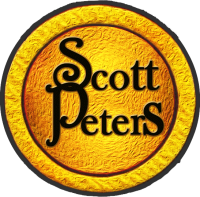 rights@bestdaybooks.com