Ancient Egypt Activity Book For Kids
By Scott Peters
Published by Best Day Books For Young Readers
Buy from:

THE AWESOME ANCIENT EGYPT ACTIVITY BOOK!
Is your child obsessed with Ancient Egypt? This activity book is a must-have! Packed with Ancient Egypt-themed fun, it's perfect for boys and girls who love pyramids, pharaohs, and mummies. Keep them entertained for hours!
Ideal for car journeys, weekends, or at home: Whether you're on a road trip or enjoying some downtime at home, this activity book is a great companion to keep your child engaged and happy.

Coloring pages, mazes, word searches, dot-to-dot, picture completion, cut and assemble, puzzles, and more!: This activity book offers a wide variety of entertaining and educational activities, ensuring your child never gets bored.

Learn about Ancient Egypt gods and fascinating facts: Your child will discover intriguing details about the pharaohs and gods of Ancient Egypt and learn fascinating facts about this ancient civilization.

No repeated activities!: Each page presents a new and exciting adventure, avoiding any repetition and keeping the excitement alive.

Perfect size for travel: 8.5x11 inches with a glossy cover: Take this book with you on holiday or during car rides - its convenient size makes it travel-friendly.

Suitable for ages 4-8 and 8-12: Whether your child is younger or a bit older, they will find plenty of enjoyment and age-appropriate challenges in this activity book.

Great gift for birthdays, Christmas, or Ancient Egypt-themed parties: Surprise your child with this fantastic gift that sparks their imagination and curiosity.
Over 60 unique pages of non-stop fun and learning: With an abundance of activities, including riddles, fill in the blanks, and word scrambles, this book promises endless entertainment while expanding your child's knowledge about Ancient Egypt. this book promises endless entertainment while expanding your child's knowledge about Ancient Egypt.
Get ready to explore Ancient Egypt and enjoy the adventure with Scott Peters, the bestselling, award-winning author and creator of science center and museum exhibits!
Don't miss out on this exciting opportunity to ignite your child's passion for Ancient Egypt. Order your copy of "Ancient Egypt Activity Book For Kids" today and let the exploration begin!
Paperback | 76 pages | 8.5" x 11" | 978-1951019396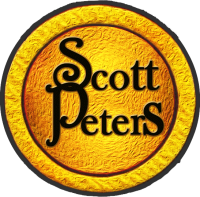 rights@bestdaybooks.com